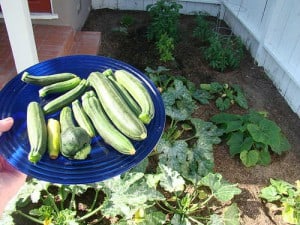 One superb way of avoiding the risks posed by genetically modified foods as well as the threats caused by the use of pesticides and other toxic additives in plants is to start your own organic garden in your own yard. Planting and maintaining a garden is a particularly rewarding experience, and while most of the steps involved in starting a new organic garden aren't very different from a regular one, there are a few obvious differences. For instance, spending more work up front in terms of planning and examining the site in order to come up with the ideal conditions that will help grow healthy crops.
Tips and Tricks to Get Started
While your organic garden can be as large or as undersized as you'd like, remember that knowing very well how exactly your food was cultivated and prepared is definitely worth your time and effort. As you will soon discover, making your very first organic garden is relatively straightforward.
Find the right spot. Select an open, arid area that is exposed to at least seven hours of sunlight a day. Planting your garden in natural ground is beneficial as it will help provide the nutrients required for a greater yield. Nonetheless, if you reside in a place with little to no soil or if your soil isn't in optimal condition, you may opt for a raised bed or a container garden.
Gather your supplies. Again, organic gardening is a rather simple process that makes use of many of the same tools and materials that regular crop growing call for. Prepare a hoe, a rake, compost, mulch, and seeds/seedlings. Other associated items such as soaker hoses, drip systems, floating row gardens covers, and neem or horticultural oil can greatly help your new garden realize its potential.
Prepare the bed. A very common option for beginners is the use of raised beds which is also found to be a viable solution for those who want to grow plants in otherwise harsh conditions or compromised soil. Should you decide on investing in raised beds, ensure that the border is at least 16 inches high to protect the plants' roots and that you run alongside it brick or stone to keep the bed away from likely contaminants. Once done, you may fill the layer with compost to start the area for planting.
Pick the seeds. Select the plants that grow best within your area and the region's climate. Research and find out which crops thrive in your locale to experience the highest yield. Don't forget to consider going for companion plants to complement the primary ones as they can either provide necessary nutrients to help the latter grow or repel pests that would be attracted to your primary plants.
How to Maintain Your Organic Garden
Once you have started your organic plot, do not forget its upkeep. Water your plants properly, practice weed control, and pay attention to the overall general garden care. Good maintenance may include but is not limited to water management, hand weeding, mulching, use of weed barriers, and competitive planting.